Background check credentials are either manual or integrated. Integrated background checks are checks that are performed through our system with the aid of a 3rd party partner such as Sterling Volunteers.
In this solution we will be highlighting the steps a new volunteer takes when viewing and signing up for a volunteer opportunity that requires a background check with a VolunteerMatters system that has integrated with Sterling Volunteers.
User "Finds" a Volunteer Opportunity
The volunteer may be driven to the sign-up page when browsing the project catalog, receiving an email invitation, or clicking on a link advertised via social media. If the volunteer is new, they can click 'Register Now' to begin the sign-up process.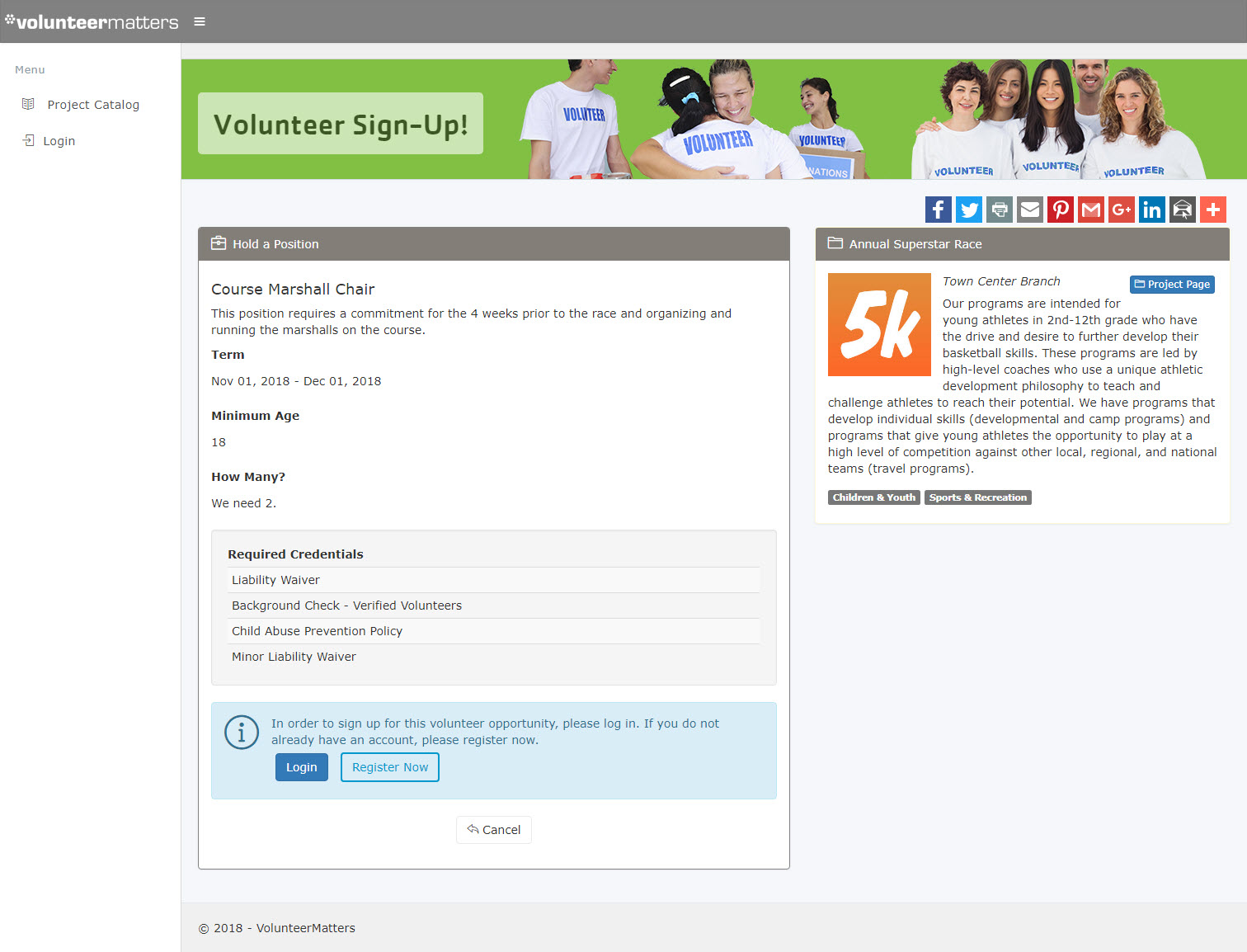 Volunteer Application - Required Information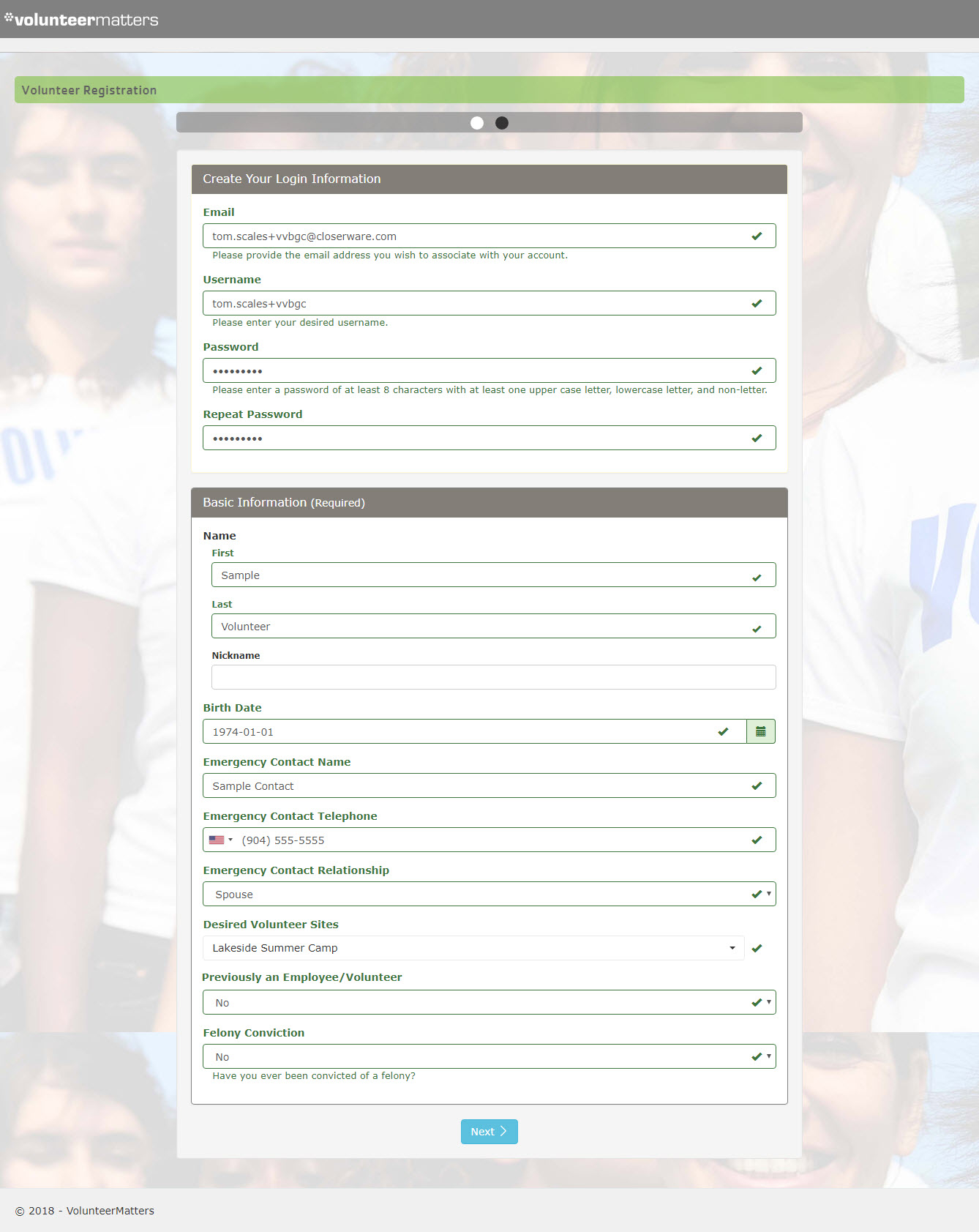 Volunteer Application - Optional Information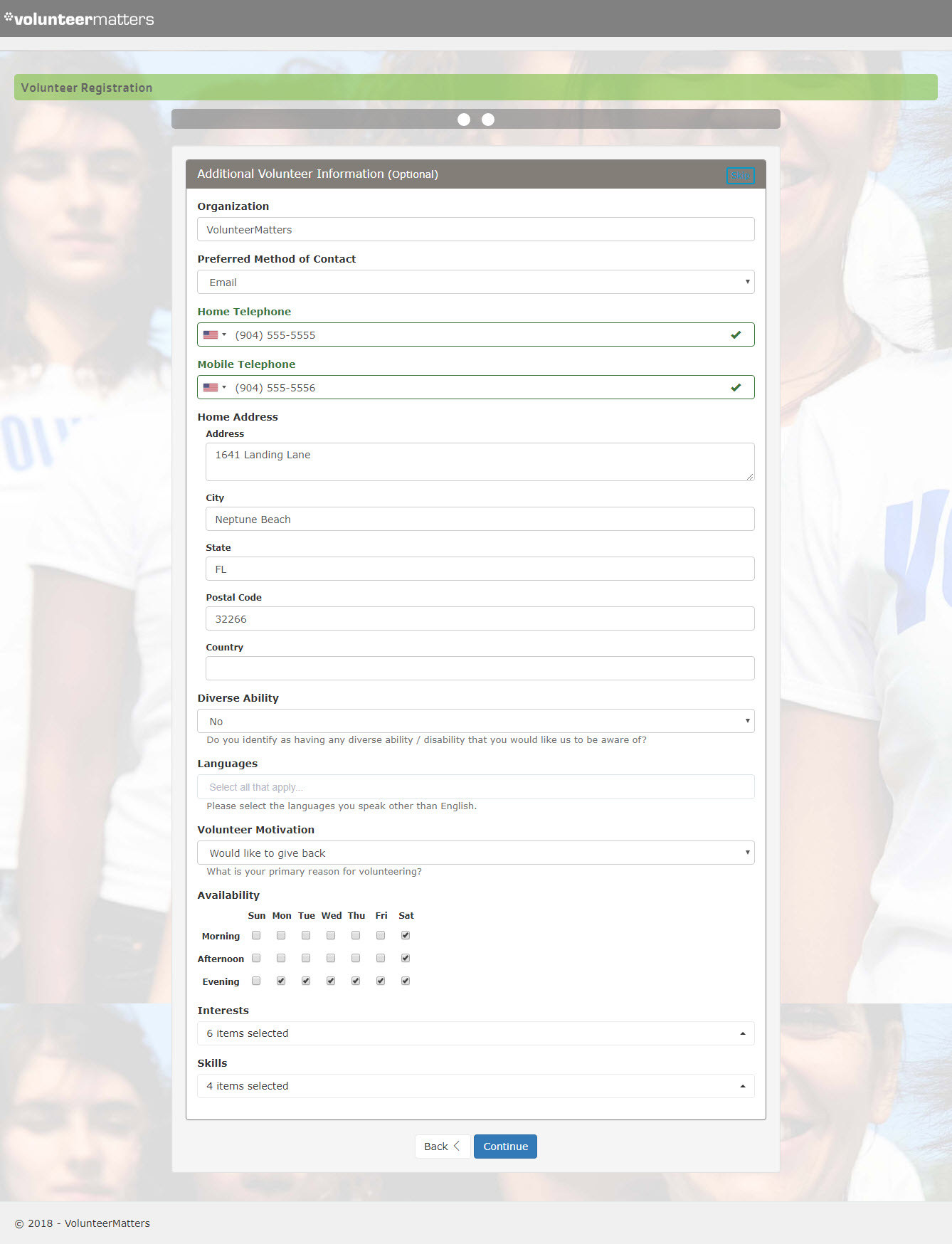 System Analyzes Required Credentials
The volunteer is automatically logged into the system and is prompted to complete their credentials. The system determines which credentials are required of all volunteers and those that are required for this specific assignment. This could include a liability waiver, child abuse prevention policy, drivers license, CPR certification, lifeguard training, background check, or any other credential the organization deems necessary. They are customizable per organization and can be marked as being a requirement per volunteer need.

Volunteer Submits/Applies for Required Non-Integrated Credentials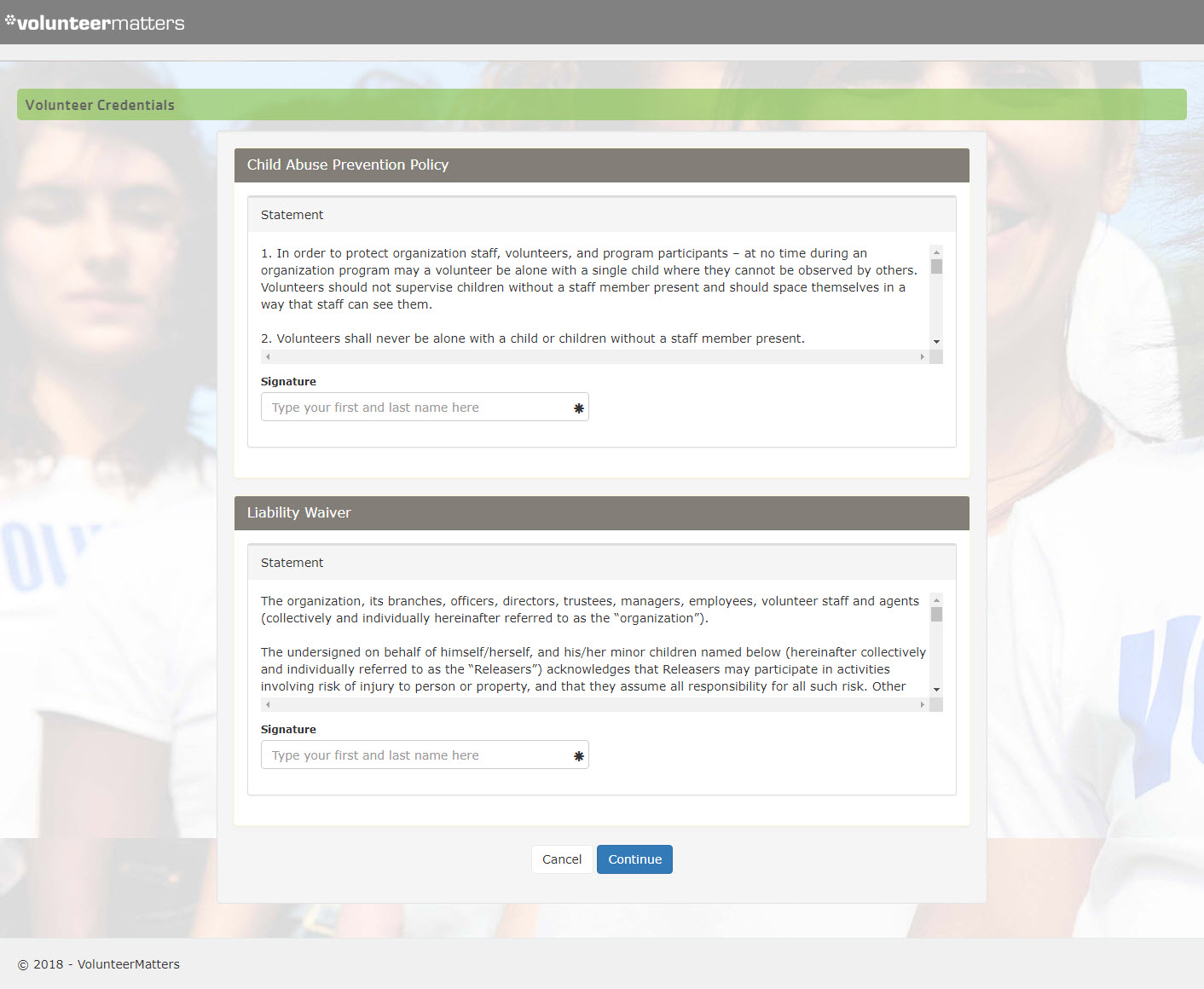 Volunteer Submits/Applies for Required Integrated Background Check Credential
The volunteer will sign the statement and then verify their contact information and click "Continue".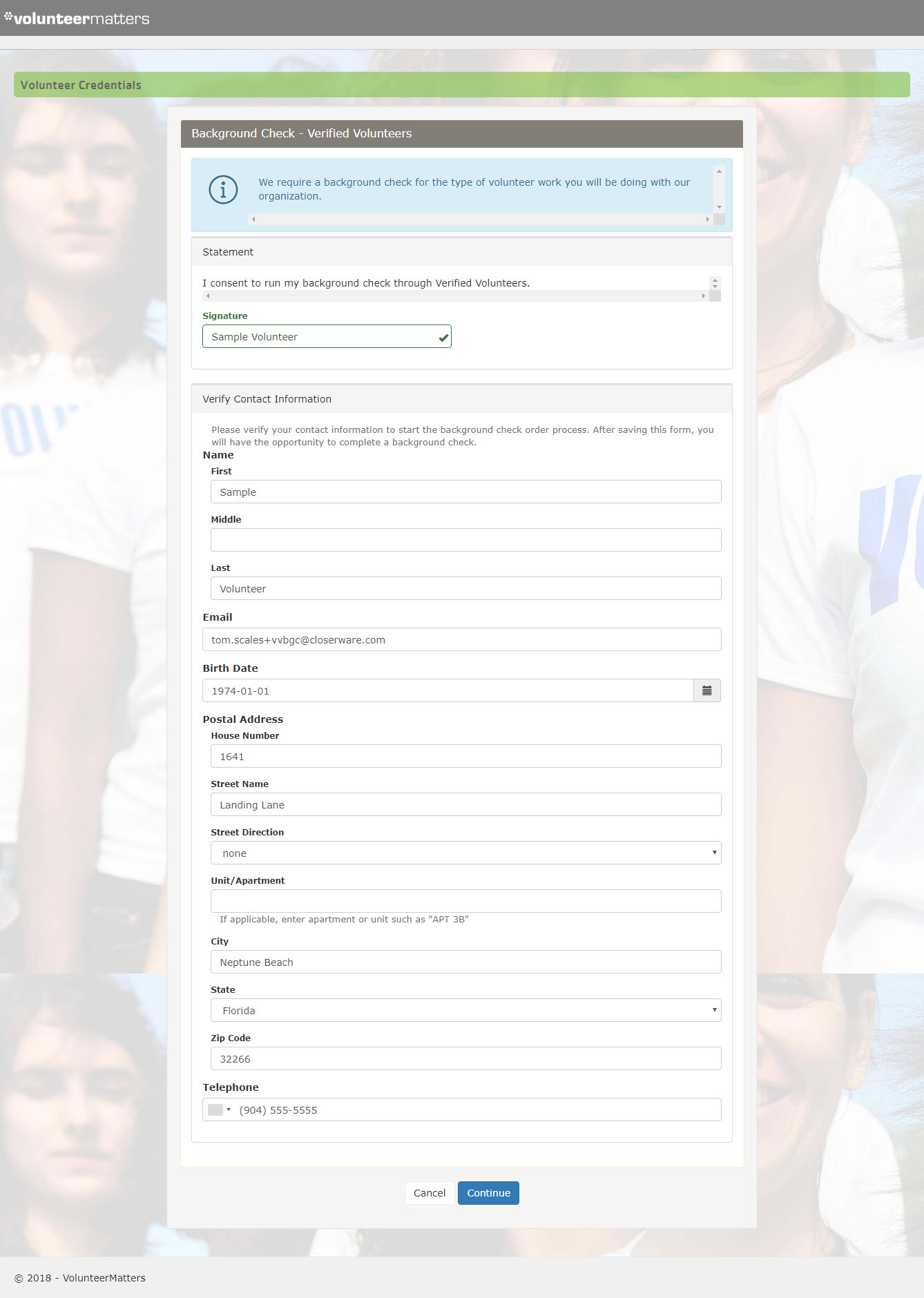 Complete Sign-up
After submitting their background check credential, the volunteer is brought back to the project need automatically signed up for it. There they are then directed to continue on to Sterling Volunteers for background check processing via the blue message and "Continue" button. If they do not continue on at this point the credential will be in "incomplete" status and they will continue to see the notification message and button on their homepage and their profile page/credential details until they have completed the process at Sterling Volunteers.
NOTE: If any of the credentials required on the need are "Strict" and require administrator or system intervention they will not be automatically signed up for the need at this time. They must come back when credential is approved or exempted and then sign up for the need.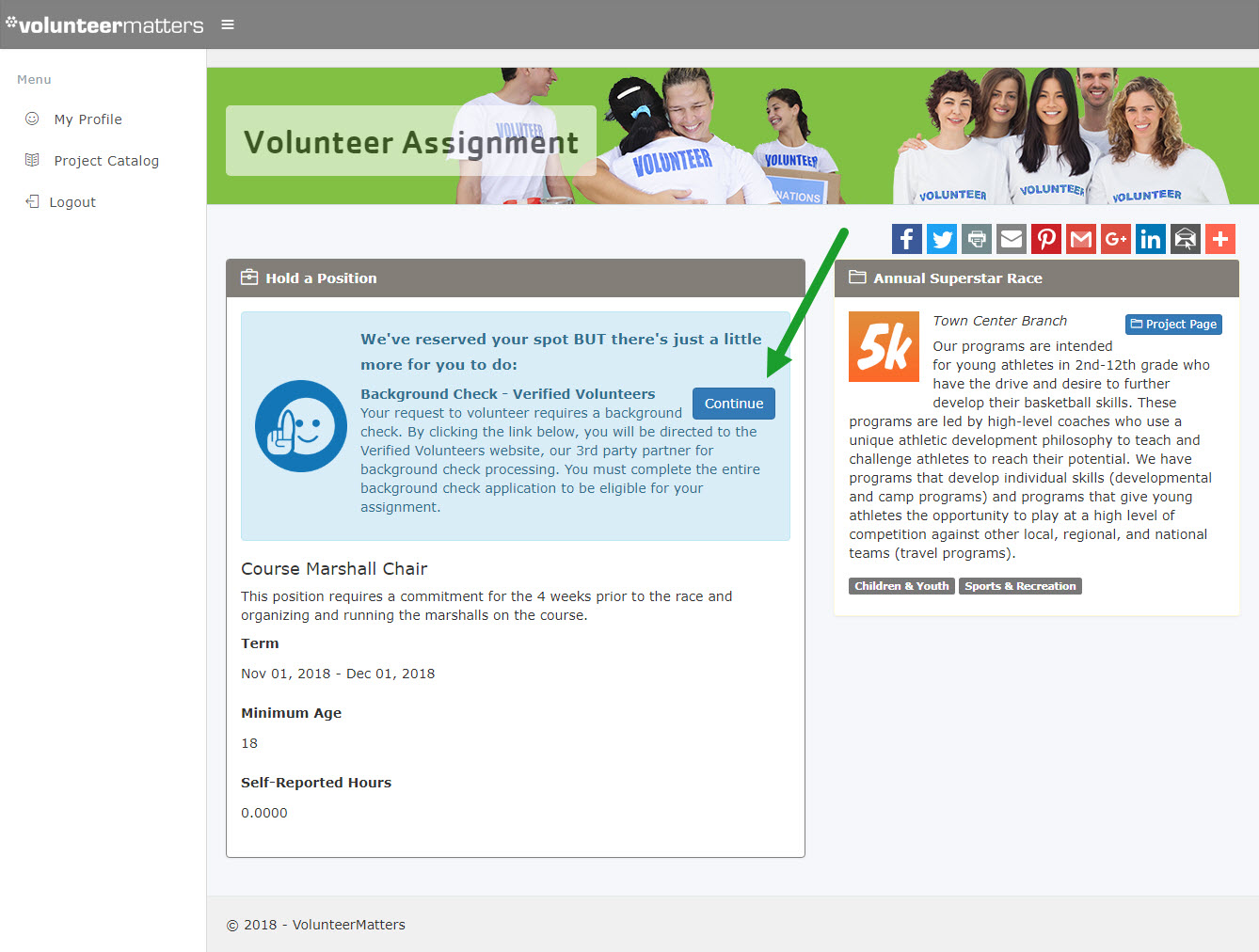 Homepage: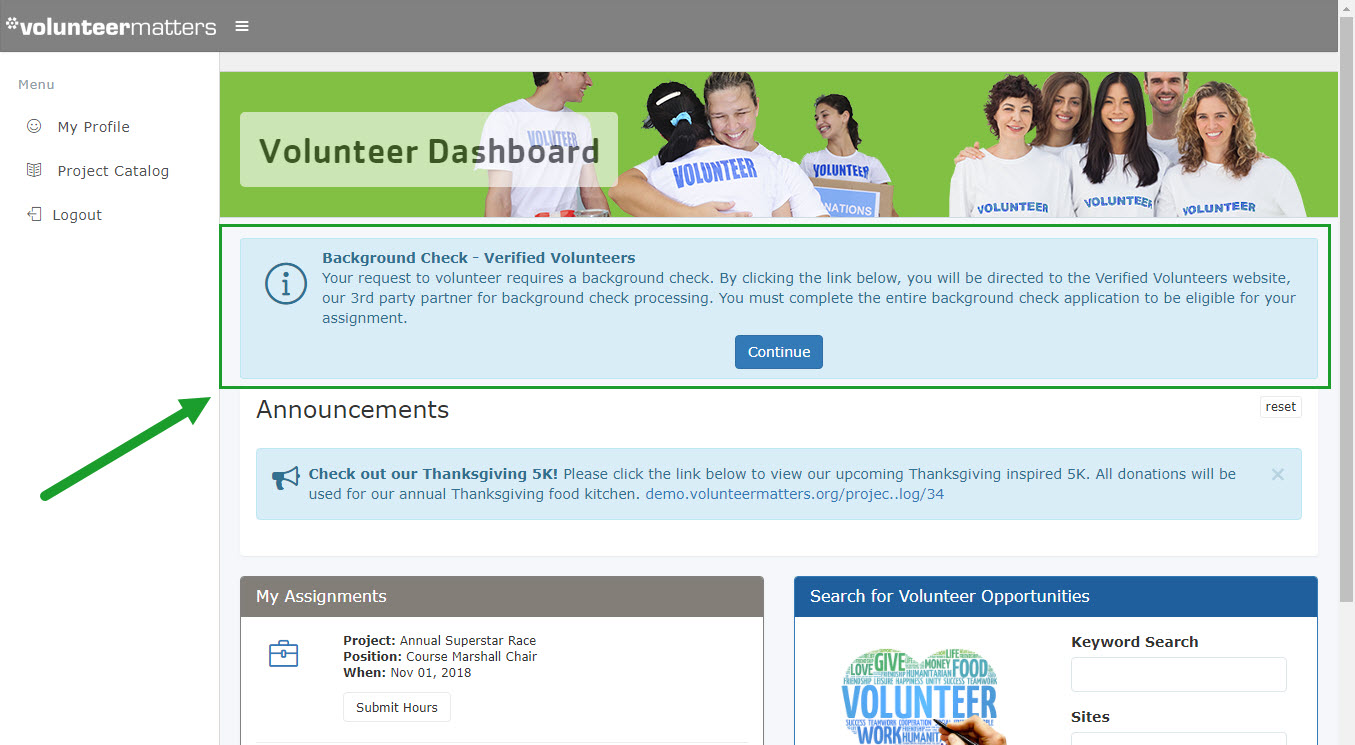 My Profile: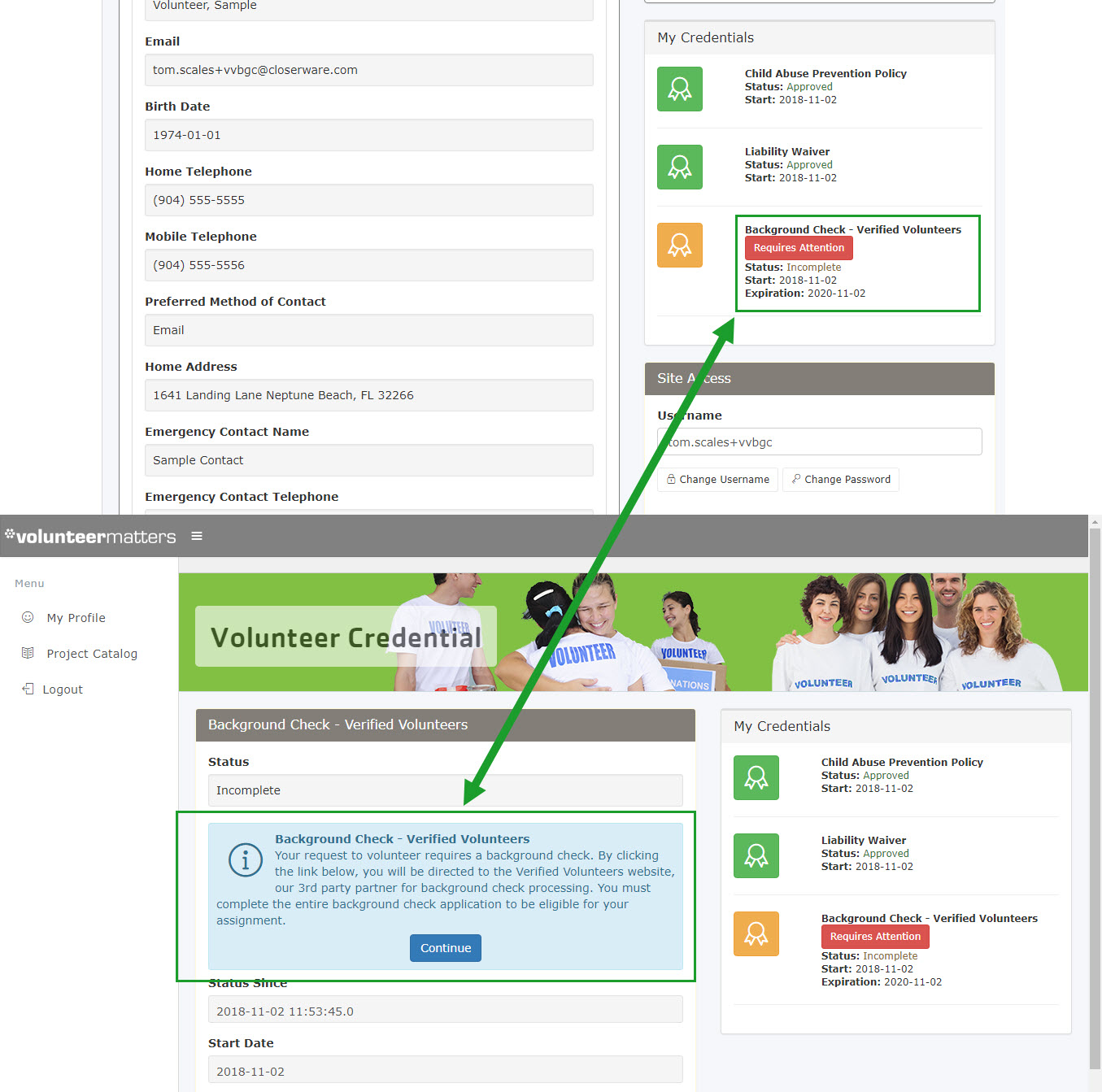 Sterling Volunteers Verification and Account Creation Pages
Once they click on the blue "Continue" button a new browser window/tab will open within the Sterling Volunteers portal where they will continue through the process.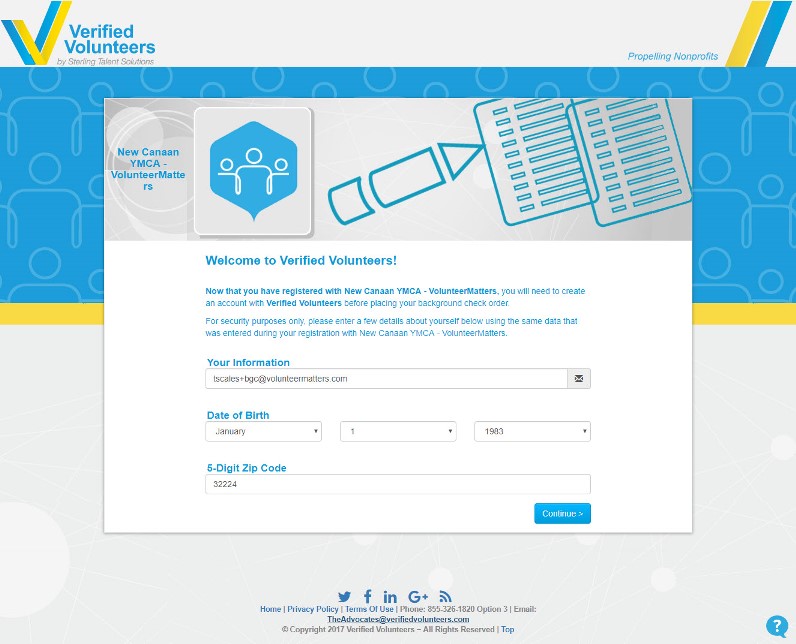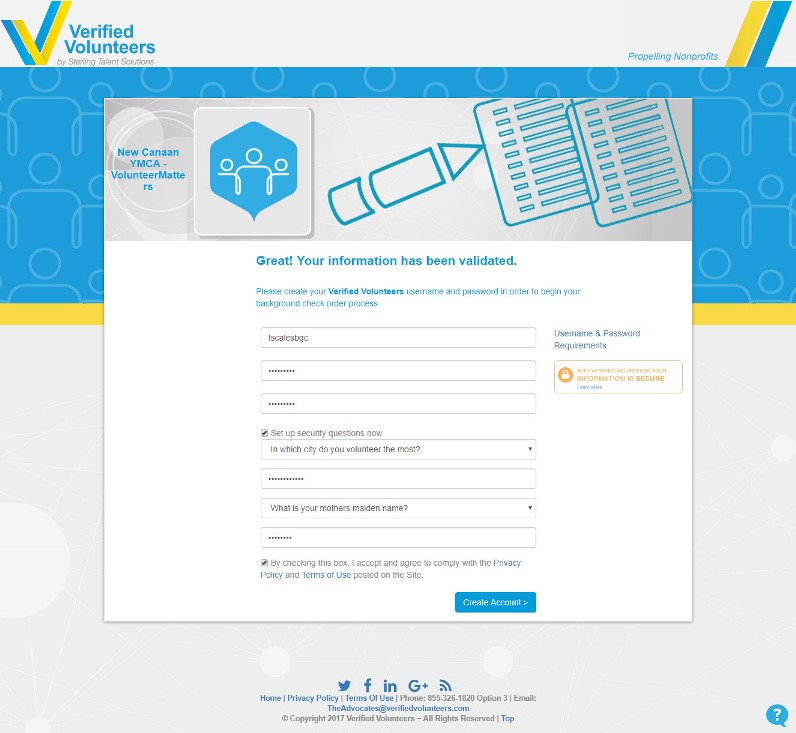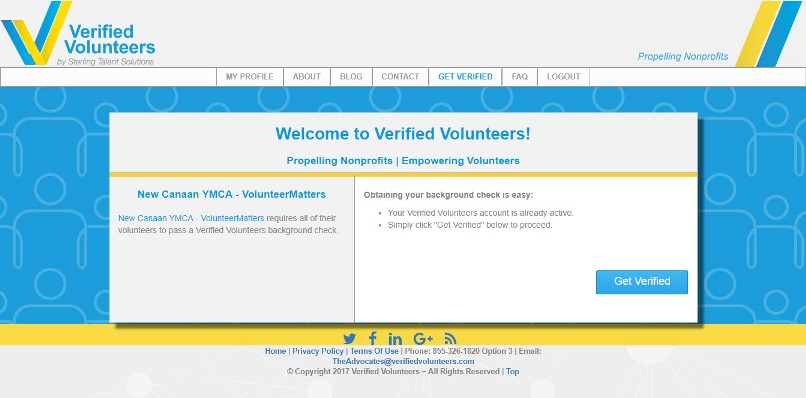 Sterling Volunteer Application Pages
(most of the information is pre-populated)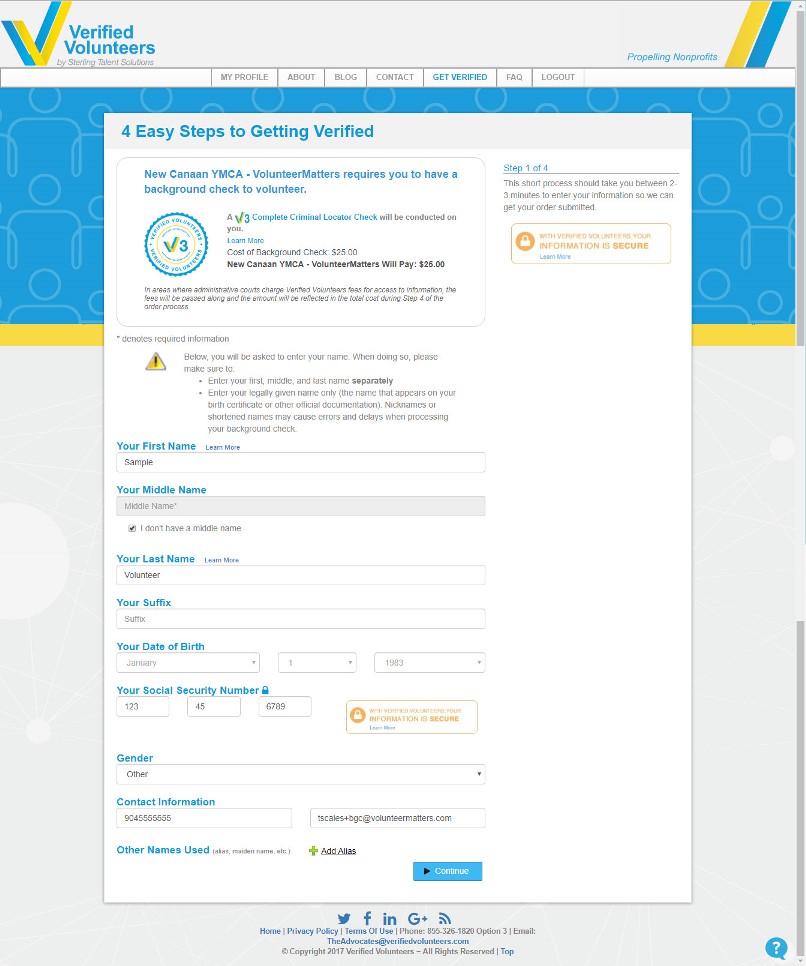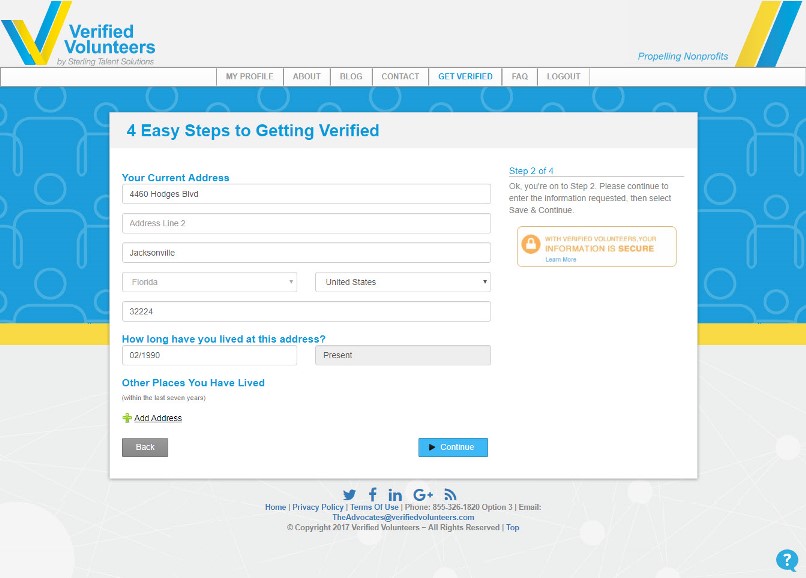 Sterling Volunteers Application
Consent and Disclosure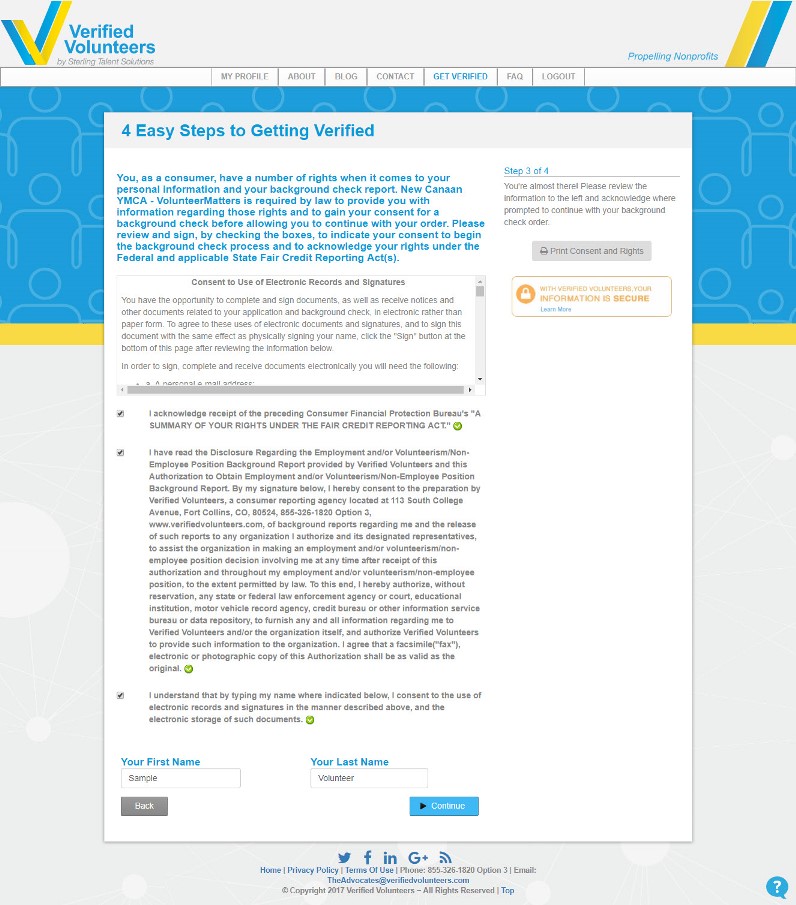 Sterling Volunteers Application
Self-Pay Option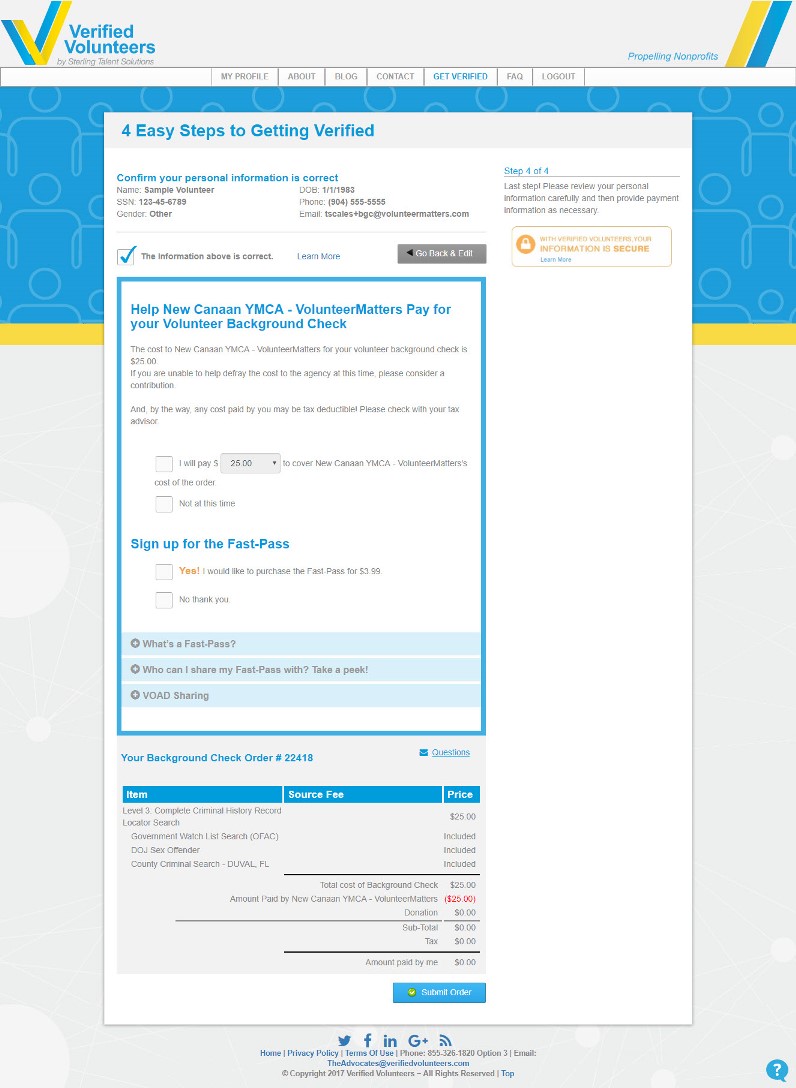 Sterling Volunteers Complete
Sterling Volunteers will automatically update VolunteerMatters when the background check is completed. This may be to automatically approve or inform the administrator they must log into Sterling Volunteers to mark the check eligible or ineligible. Click here for admin management.