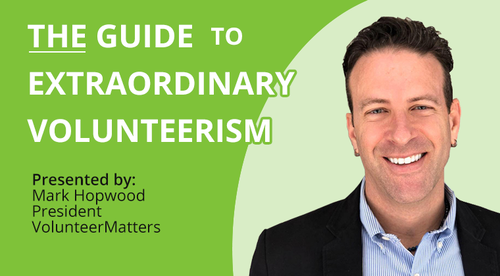 The course focuses on proven approaches and practices to deliver extraordinary volunteer experiences. The course content is not specific to or dependent on using the VolunteerMatters software portal but instead focuses on principles for any volunteer organization. The course (normally $599/person) provides over 8.5 hours of video content as well as templates, downloads, and homework assignments to directly impact your volunteer program.
It is entirely FREE to VolunteerMatters subscribers.
You can live chat with us now from your VolunteerMatters portal or submit a support ticket via email to obtain the coupon code needed for registration.
Course Outline:
Course Introduction
Recipe for Extraordinary Volunteerism
Extraordinary Mindset
Your Volunteerism Dream Team
Your Volunteerism Brand
Volunteer Onboarding & Compliance Tracking
Anatomy of a Volunteer Project
Interview, Orientation & Training
Corporate Volunteer Experiences
Click the button below to access to the course!