Within VolunteerMatters, a volunteer can verify their mobile number on their profile and then begin to received automated assignment text notifications*. These notifications include assignment signup confirmations, assignment withdrawals, and assignment reminders.
You will be able to set your preferences to get both text and email notifications, one or the other, or none at all.
Please see our commonly asked questions below if you are having trouble receiving text messages.
Automated Assignment Notification Preferences
After you have verified your mobile number you will need to explicitly set your preferences to start receiving those automated assignment notifications.
You should be dropped immediately into the preferences after verifying your number (step 3 below), but if you are modifying preferences after the fact, you simply need to login to VolunteerMatters and click on the My Profile link.


Then once on your profile you will see your mobile number and it will display an "Verified" notification (). From there you can click on the "Preferences" button either right below your mobile number field or at the top of the screen.


This will bring you to your "My Communication Preferences" page where you can see your verified mobile number and then allow you to set your preferences for assignment confirmations, assignment withdrawals, and assignment reminders. You can set your preference to get both text and email notifications, one or the other, or none at all.



When you are satisfied with your selections you will click the "Save" button and you will be returned to your profile page.


After you sign up for an assignment you will now receive those notifications via text:



Those links provided via text do not require logging in to view. You can simply click on a view. If you need to withdraw a login is required.
Commonly Asked Questions Regarding Text Notifications
Question: Text confirmations and reminders are not available to me. Why not?
Answer: It may be because you haven't verified your mobile phone - click here to learn about verifying.
Question: I have verified my mobile number and set my preferences to receive texts but I am not receiving them.
Answer: First, double check to make sure your mobile phone number is correct on your profile. If your mobile number is not correct, you will need to edit your profile and enter the correct number and then go through the verification process. If your mobile number is correct and verified, you may have replied "STOP" when you received a text in the past, which will permanently opt you out of receiving text notifications no matter your preferences within VolunteerMatters. If you can not remember if you opted out you can confirm by going to your profile and clicking on your preferences and you will see an "Opted Out" notification (

) next to your mobile number.



Question: I replied STOP to a text and now I am no longer receiving texts. How can I undo this?
Answer: If you have confirmed that your mobile phone was opted out you can opt back in once every 30 days. To do so, log into VolunteerMatters and click on your profile and then the preferences button. Then you can click the "Opt in Mobile Number" button to apply to have your phone number opted back in.

If you are allowed to opt back in you will receive a success message:

If you have already opted out and back in once during the last 30 days you will not be permitted to opt back and you will receive a rejection message: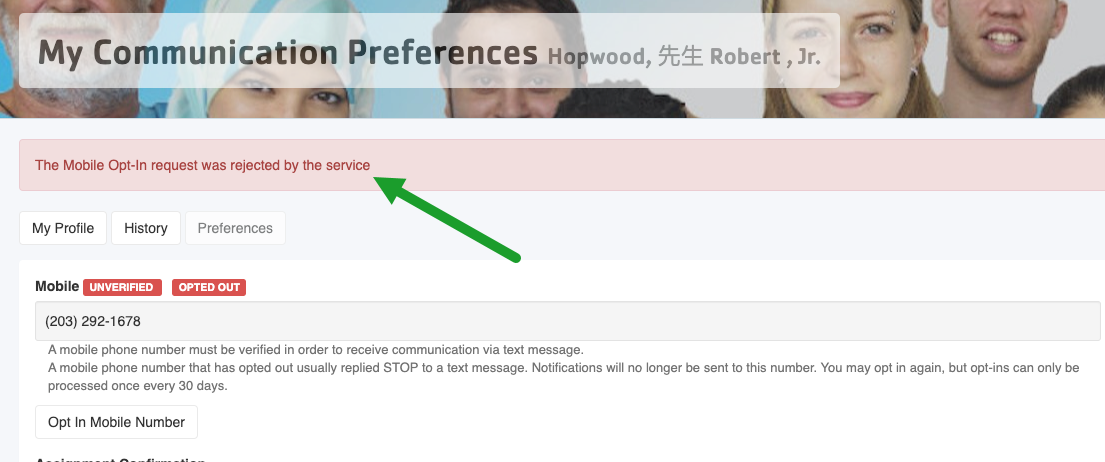 You will have to wait to opt back in.
If you have any questions, you can live chat with us now or submit a support ticket.
*Text notification reminders will only be sent between 9:00am to 9:00pm in your organization's timezone. The reminder frequency is set per customer. If you need more information on your organization's reminder frequency setup please live chat with us now or submit a support ticket.