As an administrator or organizer, when searching for contacts via the Contact Database there a few options available to you.
There are pre-configured List Views, Advanced Search, or Quick Find.
List Views
List Views allow administrators to create views into the database based off a filter criteria they create and also permits them to set to contact fields desired as columns in the resulting view. List Views are for those types of searches the administrator or organizer will use over and over again. For more information on List Views and how to manage them click here.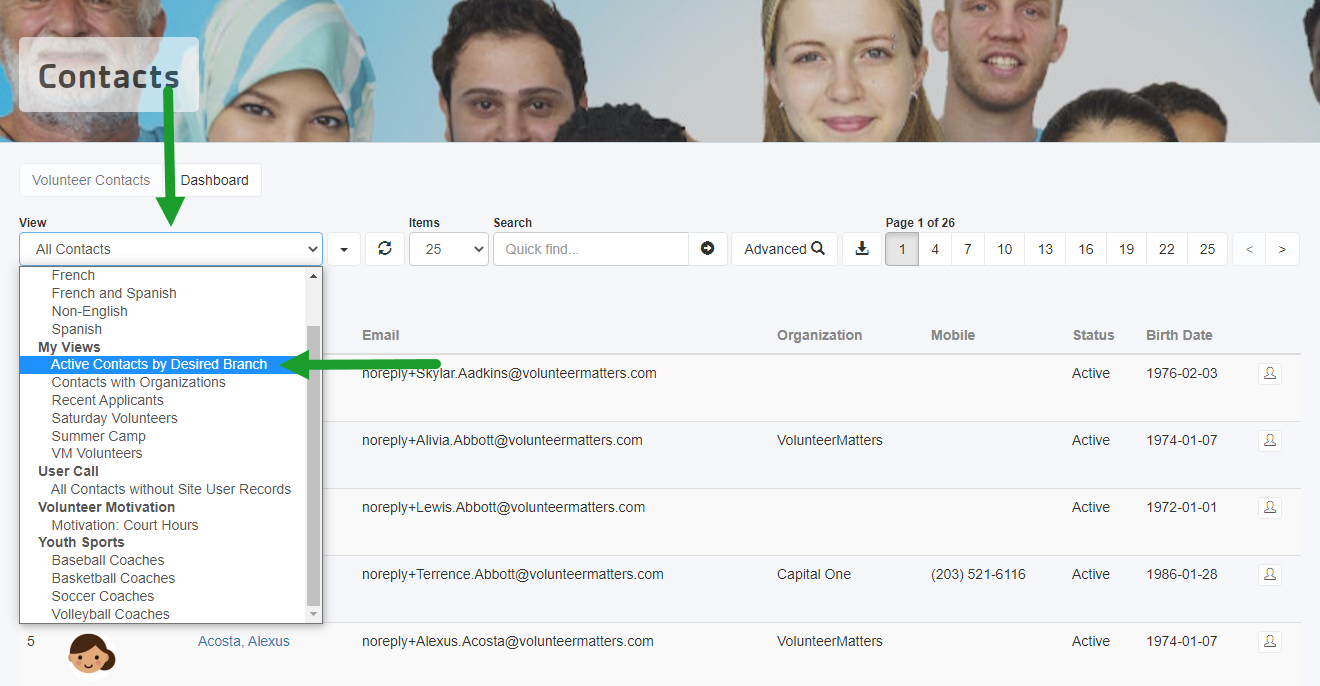 Quick Find
The "Search" field allows you "Quick Find" contacts by entering any text into the box to search the default quick find fields. These fields include Name, Email, and Organization. Please see the image below for the Search button:



Advanced Search
The "Advanced Search" allows you to fully filter records "on the fly", essentially creating a temporary list view. Please see the image below for the button location.



This button will open the 'Advanced Search' area, where you will select the Filter Criteria from the "Field" drop-down list and then, depending on the field type, be presented the with selections, text fields, date selectors, etc to utilize that criteria. For more information on working with filters click here. In this sample, it is a choose from a list field. Once you make your filter criteria you will click the "Add" button.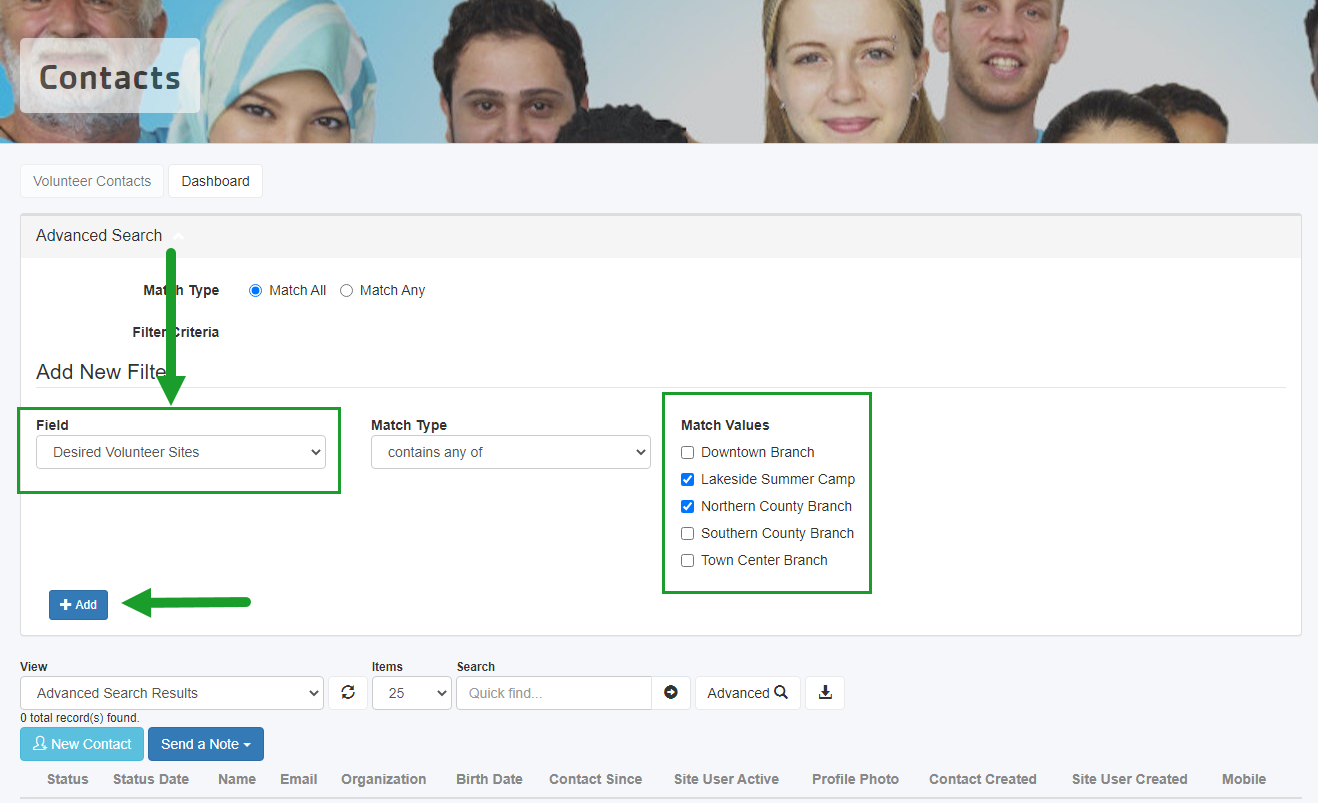 Once one filter criteria has been added, you can select an additional criteria from the drop-down and repeat the process as needed. If you wish to remove a criteria you can do so by clicking on the remove icon on the far right of each criteria (

). The Advanced Search also features a "Match Type" with radio buttons for "Match All" and "Match Any". This means that if "Match All" is selecting the contacts must match all of the filter criteria created to be returned in the contact chooser list. If "Match Any" is selected, the contacts returned only have to match one of the existing filter criteria. They do not need to match all to be returned.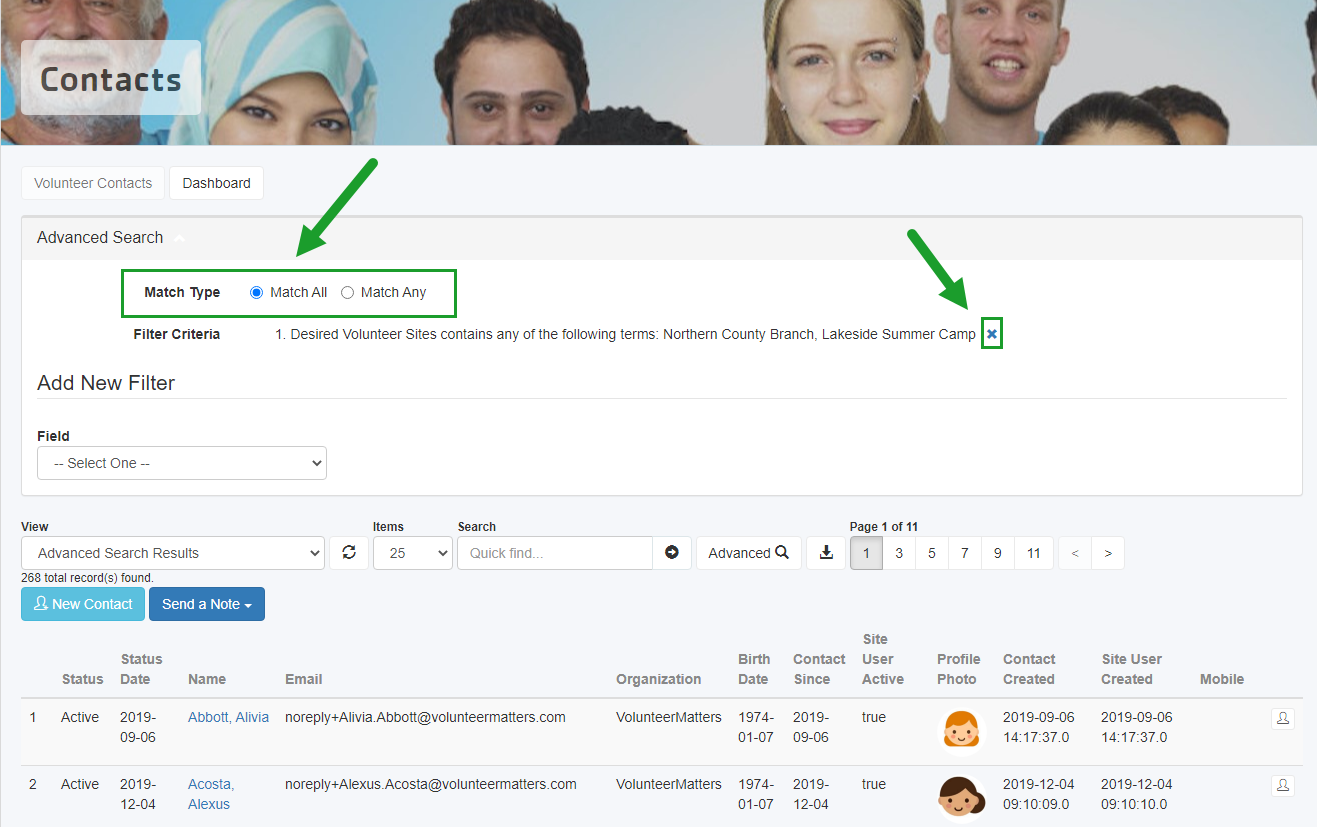 NOTE: For both Advanced Search and Quick Find, the fields/columns returned with your search results are predefined and can not be modified. If you need to return certain fields in your search, you will need to utilize a List View.